All PayPal orders must be verified and confirmed
Copyright © 2011
Sierra Electronics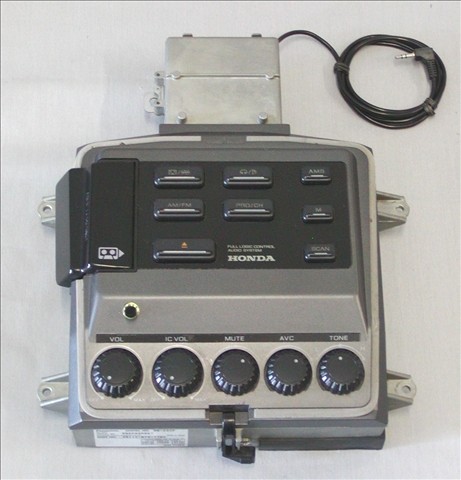 Sierra Electronics is now offering the ability to install an auxiliary input into Honda GL-1500 radios. This input allows you to plug your favorite music device into your stock radio. Any device with a standard 3.5 mm audio jack can be plugged into your radio. A small switch is installed on the front panel of your radio which allows you to switch from your am/fm, cassette radio to your audio source that you have plugged into the audio input. The cable for your new audio input comes out of the neck of the radio and provides you with three feet of audio cable that can easily be ran up the handlebars or into the left hand fairing pocket.
Price:
The charge for the Sierra Electronics auxiliary input modification is $124 with free return shipping to all customers within the continental United States. Additional shipping charges do apply for those customers not in the continental United States. Upon completion of your radio we will call for a credit card number for the charges. Customers are also welcome to send a money order, cashier's check, or personal check. We can also bill you via PayPal.
Procedure to send in your radio for modification:
Please include a brief note that states your name, address, phone number, and a statement that you would like to have an auxiliary input installed into your radio. Please ship to address below:
Sierra Electronics
2080 Experiment Farm Road
Troy, OH 45373


Free Ground Shipping in Continental US for orders over $99
Contact Us
800-338-6938
937-335-8939
sales@sierra-mc.com
Store Hours
M-Fri 9 to 5:30
Saturday 9 to 5

Closed Sunday
Sierra will price match any advertised price on any in stock item. Restrictions may apply. Please call for details.